Seeing as how technology, in general, has taken over the world, it is safe to assume that VR is not far behind. In fact, most industries have integrated virtual reality technology into their fields for efficiency, cost, and accessibility purposes. 
The business, engineering, design, and entertainment fields are a handful of many that have applied virtual reality into their daily regimens successfully. The following 10  industries have fully utilized VR, benefiting from this unique technology's capabilities and providing individual companies with competitive advantages.  
Marketing & Advertising
Real Estate
Events & Conferences
Clothing Retail
Furniture Retail
Automotive
Aerospace
Architecture
Construction
Sports
Let's take a look into how each industry is using VR.
Business
VR is being highly implemented into the business world, allowing companies to use this technology for a more efficient quality work process. Marketers, realtors, and business administration are a few.
1. Marketing & advertising:
In the marketing world, customers are skeptical to buy a product they have never used or tested out before. VR solves this problem. Customers not only want to be able to see the product but also have a chance to experience it.  They want to try before they buy, being able to see the different applications of the product, available colors, and design versions. This not only creates a more personalized relationship with the brand but allows consumers to customize the product to their liking. 
An article by Forbes magazine draws upon the benefits VR and AR provide for advertising, saying "the ads displayed are non-interactive and don't always spark a user's interest. Augmented and virtual reality can provide for an engaging advertisement option that evokes interest in the user, making them more likely to check out the product." 
To invoke such an interest in an advertised product also leads to a greater outreach for marketers. This technology allows for a wider range of customers to see a product regardless of locative restrictions, directly increasing exposure and sales. 
2. Real estate:
VR is changing the real estate game, providing potential buyers and renters to virtually see the prospective property without the difficulty of traveling. 
It can even show customers a fully furnished space, virtually customized with the preferences of the buyers despite the physical space being empty.
It not only saves travel time and expenses but allows the buyer to see the space they want to be designed exactly how they want in less than a day. 
Aside from showcasing already existing products, VR can display the progression of development. Virtual reality shows what a finished environment would look like without months of dedicated construction, resources, and money. 
This pushes customer engagement in the products you are creating and leads to a greater chance of solidifying a buyer. 
3. Events and Conferences: 
Since the Covid-19 pandemic hit, businesses have been hesitant to schedule large in-person meetings in fear of spreading the virus. VR has provided advanced alternatives for business administrations to host large meetings or events that are interactive, cheaper, and flexible. Larger companies that have been able to use VR technology to host and increase virtual conference attendance. For example, Mobile World Congress 2016 hosted a conference where attendees wore VR headsets at the virtual launching ceremony of the new Samsung S7 and S7 edge smartphones. This allowed for a larger turnout that accommodated financially and in accordance with health guidelines/ preferences.   
Retail/shopping
VR, specifically Augmented reality (AR), is heavily impacting the retail industry in how customers shop for clothing online. AR technology allows customers to virtually see themselves in the clothes without having to try on the item in a physical store or see how a piece of furniture will look in their home before having to make the purchase!
 4. Clothing Retail:
The parent company of Snapchat took over a company that specializes in creating 3D objects of tangible items. 
This technology is used to scan real objects and turn it into a virtual object that you can manipulate, resize, and then buy without leaving the app.
Virtual reality headsets can provide an immersive buying experience, personalizing the shopping experience, providing 3D graphic-rich content. 
This customized feature also applies to furniture retail as well, allowing customers to visualize what their dream couch would look like in their house without the hassle of purchasing and relocating it. 
5.  Furniture Retail:
For example, a survey conducted by L.E.K states that 80% of respondents want to use AR or VR to design a room or physical space by browsing virtual or physical showrooms, getting information about furniture and décor, and "seeing" what it looks like."
Online retailer Wayfair uses VR showrooms to let customers see their virtual room design come to life as they continue to shop and try out new products.  
Engineering Field
6. Automotive:
The automotive industry has adopted the use of VR in order to create quality cars at a cheaper production cost. The available technology allows companies to build a vehicle before commissioning expensive prototypes. This saves the automotive industry millions by reducing the number of prototypes necessary per vehicle line.
The technology is also installed in the showroom. With the development of VR headsets, this technology can be affordably brought to any showroom to show customized makes or models in exactly the way a customer is going to buy them.
Imagine having the access to design your dream car and step into the driver's seat before any money is exchanged. 
One example of this is Toyota implementing Zerolight VR technology into their marketing strategies. This feature allows buyers to interact and configure their desired car in a way they never have before, promoting new cars and encouraging customer loyalty with the Toyota brand. 
7. Aerospace:
Boeing is using VR for use in designing and testing new commercial aircraft and has helped development teams address human-factor issues in preproduction designs.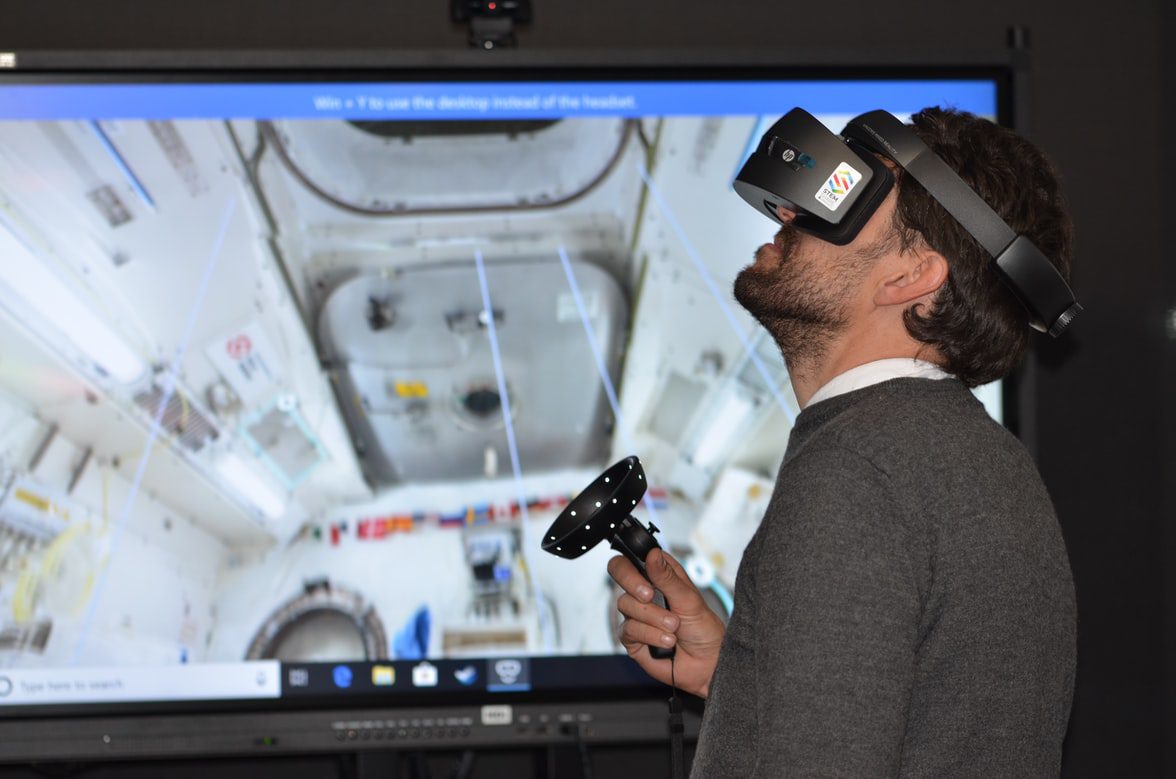 Virtual reality has extended the horizon of what design engineers can create and experiment with, without having to invest in costly and time intrusive prototypes. This also enables quicker management decisions and the ability to adapt to industry innovations. Rishi Ranjan, CEO of Grid Raster, told Design News. "With AR, you can set the wires virtually, a process that saves weeks." Practicing through an augmented or virtual environment not only saves parts but decreases costs while training more elaborately. 
Workers can learn their jobs in a completely virtual world before they begin to execute the manufacturing process.   
AR and VR companies are building simulators that can be deployed remotely as long as you have a display. Trainees don't need to go to a certain location. For some of the really dangerous training, trainees don't have to risk the plane."
Design Industry:
In terms of the design industry, both the architecture and construction professions are utilizing VR technology in order to provide a better understanding of an unfinished project. 
8. Architecture:
A VR architectural presentation has 360 view capabilities, providing a space for design to resemble the similarities of scale of the project. Similar to those in the engineering field, this technology helps decrease time and resources spent using real materials. 
Virtual reality establishes an immersive 3D experience that not only appeals to the clientele's emotional side but also presents architectural ideas in the most efficient, sustainable way available. The details of projects can be investigated and discussed more accurately in a simple VR environment rather than the limitations that physical materials come with.
9. Construction:
Similar to architecture, VR is improving accessibility and quality control for construction workers. This technology creates hyper-accurate digital representations of a construction project in an advanced, visual format. VR allows workers to see the end result of what they are creating and encourages them to make necessary changes during the building process as well as feel empowered to achieve the final product.
 Entertainment
10. Sports:
Vr is even being integrated into the sports industry, primarily by NFL and college football teams in training. Using VR to review film can simulate actual game conditions, making these sessions even more effective.
Immersing the players in a VR film review where they are aware of the outcome allows them to better self-evaluate areas of improvement and promotes more situational awareness in real gameplay. VR technology has now become "the ideal means of supplementing work on the field, on the rink, on the court, to further athletes' skills and knowledge of the game."
We've all seen how quickly technology scales and VR is the next big one.
*Written by: Zuzu Pasch*